Installing the indicator
To get the indicator files, you need to rent them first. It comes in two different versions, so please check if the indicator you are paying for supports your required timeframes.
After you applied for rent and completed your transacts, before start using the indicator, you need to find and write down two parameters. Go to the Subscription section on our website, or use this link, and see if you have an active subscription for the indicator. Then, click on the subscription details.

In the detail section of your active subscription, look for Related Orders and remember the Order ID.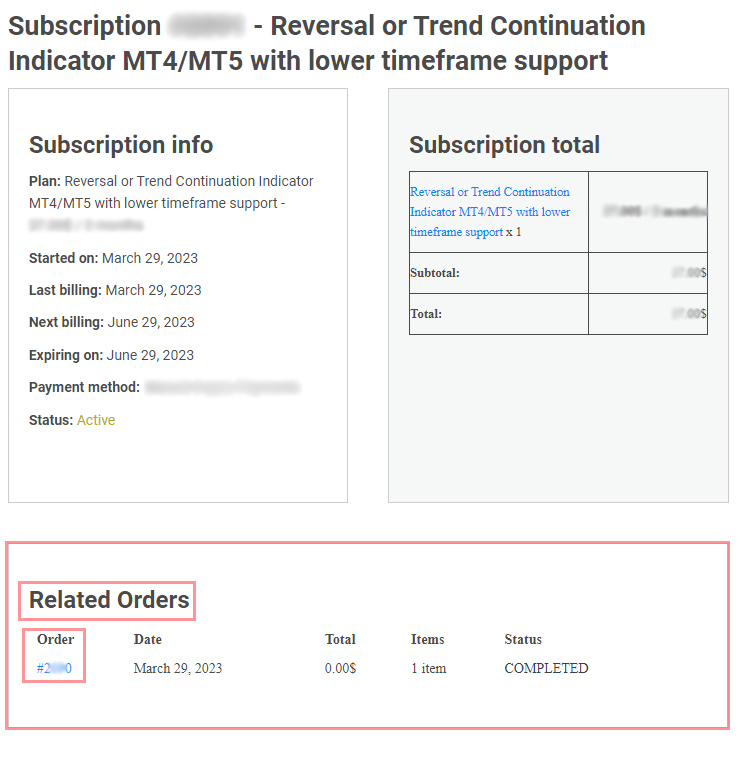 You will use this Order ID and the email address that you used to sign up on our website as your indicator credentials.
Go to the Downloads section in your account, or by clicking here.
Download the suitable version of the indicator for your MetaTrader platform.
Extract the files.
open your MetaTrader and from the top menu select File, then Open Data Folder.
Open the MQL5 or MQL4 folder.
Inside the MQL5 or MQL4 folder, there is an Indicators folder, move the downloaded files that you have extracted there.
Now, you can add the indicator to your chart, but before pressing the Ok button you should take some steps.
Add the indicator to your chart.
If you use MetaTrader 5, on the Dependencies tab Allow DLL Imports.
If you use MetaTrader 4, on the Common tab Allow DLL Imports.
Then on the Inputs tab, enter The login credentials you wrote down.
Am I done?
If you have completed the installation steps according to our instructions, you will see a chart like this. Otherwise, make sure you have access to the internet and that you have entered your credentials correctly.